_
Table of Contents
_
How Do I Sign-Up or Sign-In?
Please follow these instructions to create a new account or to update your existing access.
Navigate to support.etapro.com and click Sign In at the upper right of the page:




If you have previously submitted an EtaPRO Support request, most likely your email address is already registered with us. In this case, click "Get a password":


You should receive an email with password setting instructions.
If you have never submitted a support request, click Sign Up and follow the prompts.


Once you have logged in, you should see the following:



Clicking on each rectangle will take you to related pages – Downloads & Installation Manuals, Calculation Templates, Knowledge Base Articles, etc.
_
Where Do I Find Software Installations?
EtaPRO, VirtualPlant™, and EtaPRO® Predictor™ installation files can all be found in the Downloads & Installation Manuals section:




When you click a specific download article, you will see a page similar to this:




Simply click the product name to download the associated installation files.
_
How do I Submit a Support Request?
The preferred, and possibly easiest method of sending a question or reporting an incident is to use the EtaPRO Client Help | Submit or Track an Issue menu option: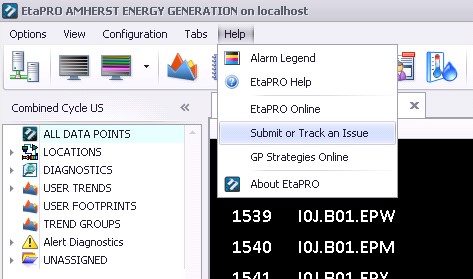 This will redirect to the following form:


Using this form helps the support team to gather the important information up front, such as "what is the nature of the question/incident", and "what is the version of EtaPRO Client/Server installed". By asking for this information up front, it will reduce the number of exchanged emails between support and end users and should enable faster ticket resolution.
_
How Do I View My Tickets?
The new and improved EtaPRO Support site also allows you direct view on your existing tickets - and tickets for your entire organization if desired. Clicking the drop-down menu will allow you to view "My activities" which will include all of your support requests, and requests that you are following or CC'd on.
After signing in, click your name at the upper right of the screen. From the drop-down menu, select "My activities":




Your tickets should then be displayed:


Clicking each ticket will provide details. Each ticket status will also be visible. By request, we can enable a feature for end users to view all tickets submitted by their organization.